---
Pollard Memorials Win 'The Shires Magazine Award of Excellence for Quality and Service for Memorial Service of the Year 2012'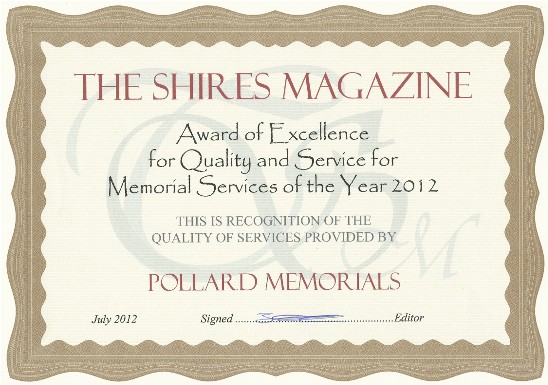 "We are proud to be the winners of this prestigious award, and look forward to continuing our service to our customers and clients for 2013 and beyond.."
Jim & Dorinda Pollard
---
Our price list includes:
the Headstone or Memorial, as shown in the brochure (including ornament),

ALL inscription

V.A.T @ Current Rate,

foundation and fixing and a ground anchor to make the stone almost impossible to push over and a

30 Year Stability Guarantee (That's more guarantee than on a new house!)
Come and see us, or request a free full colour brochure, showing a large variety of headstones and memorials, including all inclusive, easy to follow prices.
From a plain and simple tablet, to a full sized headstone and kerb surround, we are so confident in our workmanship that the service you will receive will include a :
100% Risk Free Guarantee :
(No catch - No small print)

"We very rarely have a problem, (ask any of our thousands of customers) , - we are so confident in our workmanship and materials THAT:
If, for whatever reason, you're not happy with the finished memorial, (but we're sure that you will be!) we will do everything in our power to please you. We really will go that extra mile.
BUT: If you're still not totally certain that you got the memorial that you really wanted, then we'll take the headstone, tablet, desk or kerbset away and you can get a Full Refund."
"The only reason we can offer you such a guarantee is the confidence we have in our products and our service..."
"Join the thousands of existing Pollard Memorials satisfied customers"
Jim & Dorinda Pollard .
So, Contact Us Today for:

Click Here for a Free Brochure
We'd really like to see you, but you don't necessarily have to come to our showroom.
If you prefer, we can do everything over the internet, post or phone.
---
A Few of the Many Testimonial Letters we've received, the originals can be viewed at our office:
Dear Dorinda & Jim
"Just wanted to send a little note to say a big thank you
Choosing Alfie's headstone was a very difficult task, however, due to your patience and understanding this task was made somewhat easier.
Jim – you have done a fantastic job with the stone, it is beautiful.
Dorinda – you have been an absolute star, right from my first telephone call to you, you were so lovely and really took time to listen.
Thank you both so much,
Much love"
Lynn, David, Joshua, Ryan and Zack "The Allwoods" – Solihull
---
Dear Dorinda & Jim,
"Just a line wishing to express our heartfelt thanks to you both, for your guidance, care and support in choosing the right memorials for our son Daniel.
We are truly overwhelmed by the end result, and it has far exceeded our expectations.
Once again "many thanks" and we wish you both all the best for the future.
Best Wishes
Sharon , Darron and Family."
Dear Dorinda and Jim,

"We would like to thank you for your kindness, which you gave in such a sympathetic manner.

We feel you were the perfect people to have had in the making of our special daughter's stone

You have made it a beautiful work of art, which we are very proud of. So many people have commented on it, and how the inscription has been done.

We were pleased in not hesitating to tell them of your excellent service.

Thank you both most sincerely"


Elaine & John"
Dear Dorinda

"I have been to the Cemetery today to have a look at the work you have recently completed on my sister's headstone.

I could not be more pleased with the outcome; you have achieved exactly the result I was looking for.

All your work, on and off site has been carried out with great care and attention to detail.

Thank you Dorinda, for your help and patience with the final lay-out, which could not be better."

D. Knights
Dear Dorinda

"May I take this opportunity to thank you for all your help and guidance over the last few months. The thought of having to choose something like this is always dreaded, however you made the whole process so personal and easy, it was a complete pleasure to deal with you.

The stone itself left me speechless, it is a work of art by exceptional craftsmen, which I know would have been truly appreciated by my late husband. I cannot think of a more fitting tribute to him, and feel blessed to have something so original and beautiful in his memory.

Kind Regards"

Carmel Gilligan.
So for Free Friendly Expert Advice and Guidance from a Caring Family Company:
Click Here for a Free Brochure
or call 01676 534618
We'd really like to see you, but you don't necessarily have to come to our showroom.
If you prefer, we can do everything over the internet, post or phone.

---
Accreditation:
British Register of

Accredited Memorial Masons
Click Here to go to Our Products Page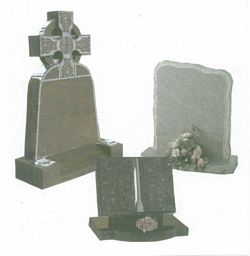 ---
Click Here for a Free Brochure
or call 01676 534618
---
Pollard Memorials. 326 Kenilworth Road, Balsall Common. CV7 7ER
01676 534618
Just a few miles from the National Exhibition Centre & Birmingham Airport
M42 - Junction 6 / M6 - Junction 4
---